Gascoigne Arms Main Menu
Starters
---
Homemade Scotch egg 4.90
Free range egg surrounded with pork and crisp breadcrumb, homemade chutney
---
Homemade soup of the day 4.50
Please ask for today's flavour
---
Prawn & avocado salad 5.00
Served with honey & lime dressing
---
Hanging Skewer kebabs
---
All served with chips, salad and slaw
Chicken & Chorizo, garlic butter 13.50
Spiced pork, sweet chilli & lime dressing 14.00
Spiced pork, sweet chilli & lime dressing 14.00
---
Classics
---
Spanish Chicken 11.95 **
Grilled chicken breast topped with bacon tomato and basil sauce & a sprinkling of cheese, hand cut chips, peas & dressed salad
---
East Coast Scampi 11.95 **
Breaded scampi, handmade chunky chips, fresh salad & tartar sauce
---
Line Caught Hand battered Fish 12.95
Hand battered fish, handmade chunky chips & your choice of mushy or garden peas
---
Beefsteak Lasagne 12.95
Homemade beefsteak lasagne, fresh side salad & garlic bread, add chips for 1.99
---
Roasted Mediterranean Vegetable Lasagne 11.50
Dressed fresh salad & homemade slaw
---
Our Signature Hand Made Pies
---
Steak & Beast Pie 13.50
Made with own recipe using the famous Barwick Beast Beer topped with short crust pastry, handmade chunky chips or mash, peas & gravy
---
Beef Brisket & stilton Pie 13.50
Tender beef brisket with crumbled blue stilton in a rich gravy topped with short crust pastry
---
Off the Grill
---
All our steaks are 28 days matured & served with tomato, garden peas, handmade chunky chips & Brazilian salsa Molho a Campanha
---
12oz rib eye 18.00
10oz rump steak 14.80
8oz Sirloin 16.00
8oz gammon with eggs or pineapple 12.00
---
Signature Maypole Burger 12.95
Handmade burger seasoned to our own recipe stacked with bacon, egg, blue cheese, lettuce, topped with onion rings and handmade chunky chips & salad
---
Grilled Chicken & chorizo Burger 11.95
Grilled chicken breast, warm smoky chorizo, crisp lettuce, mayonnaise in a bun served with onion rings, chunky chips & salad
---
Classic Cheese & Bacon Burger 11.95
Handmade 100% beef burger, bacon, cheddar cheese, crisp lettuce & burger sauce served in a bun with chunky chips, salad & homemade slaw
---
Spicy Bean Burger 9.95
Spiced bean burger served with mayonnaise &crisp lettuce in a bread bun with handmade chunky chips, salad and fresh slaw
---
Desserts
---
Gascoigne Sundae 5.00
Chocolate fudge, three flavours of ice cream, chocolate pieces & whipped cream. Perfect treat!
Sticky toffee pudding & vanilla ice-cream 5.00
Chocolate fudge cake & vanilla ice-cream 5.50
Hello Lemon Cheesecake & fresh cream or ice cream 5.00
Homemade rhubarb Crumble and custard 5.00
---
Smaller Portions (others Available please see **)
---
All served with chunky chips, peas or beans
Handmade Chicken fillets 5.00
Cheese & tomato Pizza 4.50
Mini handmade Burger 5.50
Battered fish goujons 5.00
Locally made Pork Sausages 4.50
Cottage Pie 5.50
---
Terms & conditions – our menu descriptors do not include all ingredients please ask a member of the team if you require full allergen information on the ingredients in the food we serve. Whilst we take care to preserve the integrity of our vegetarian products we must advise that these are handled in a multi kitchen environment. Products are subject to availability . All prices are inclusive of VAT.
Or click here to view a printable version of our main menu
---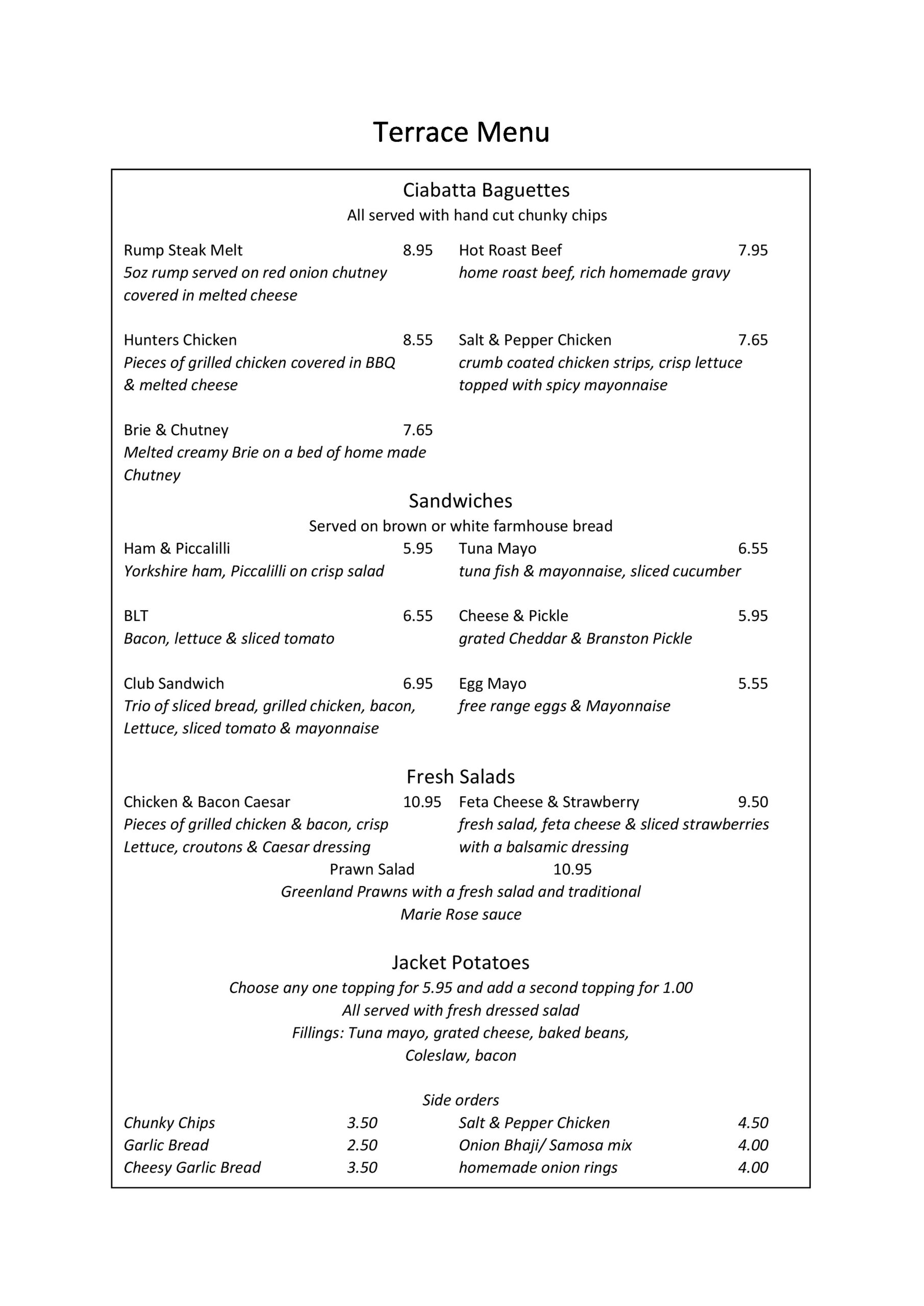 Click here for a pdf printable version of our Terrace Menu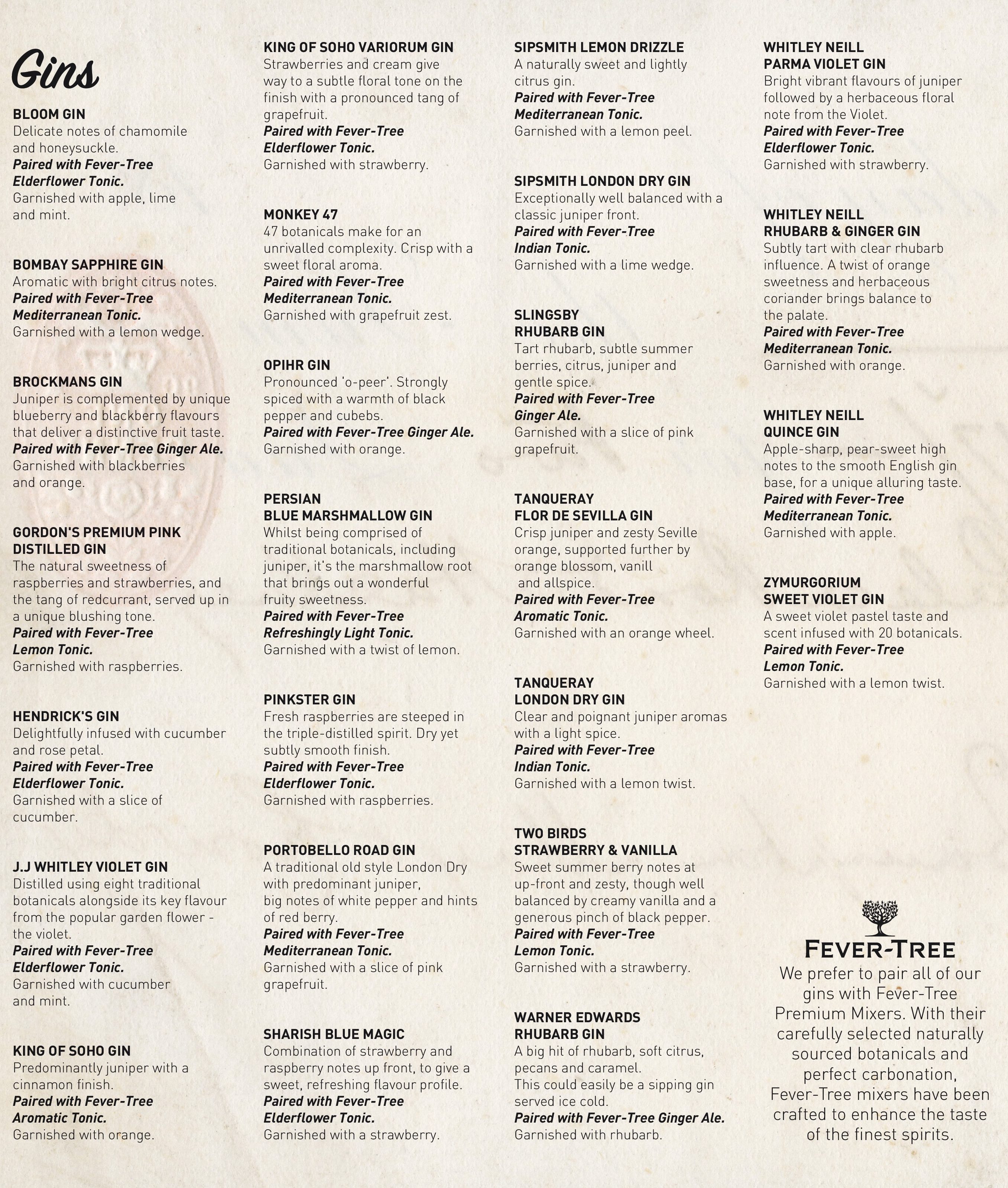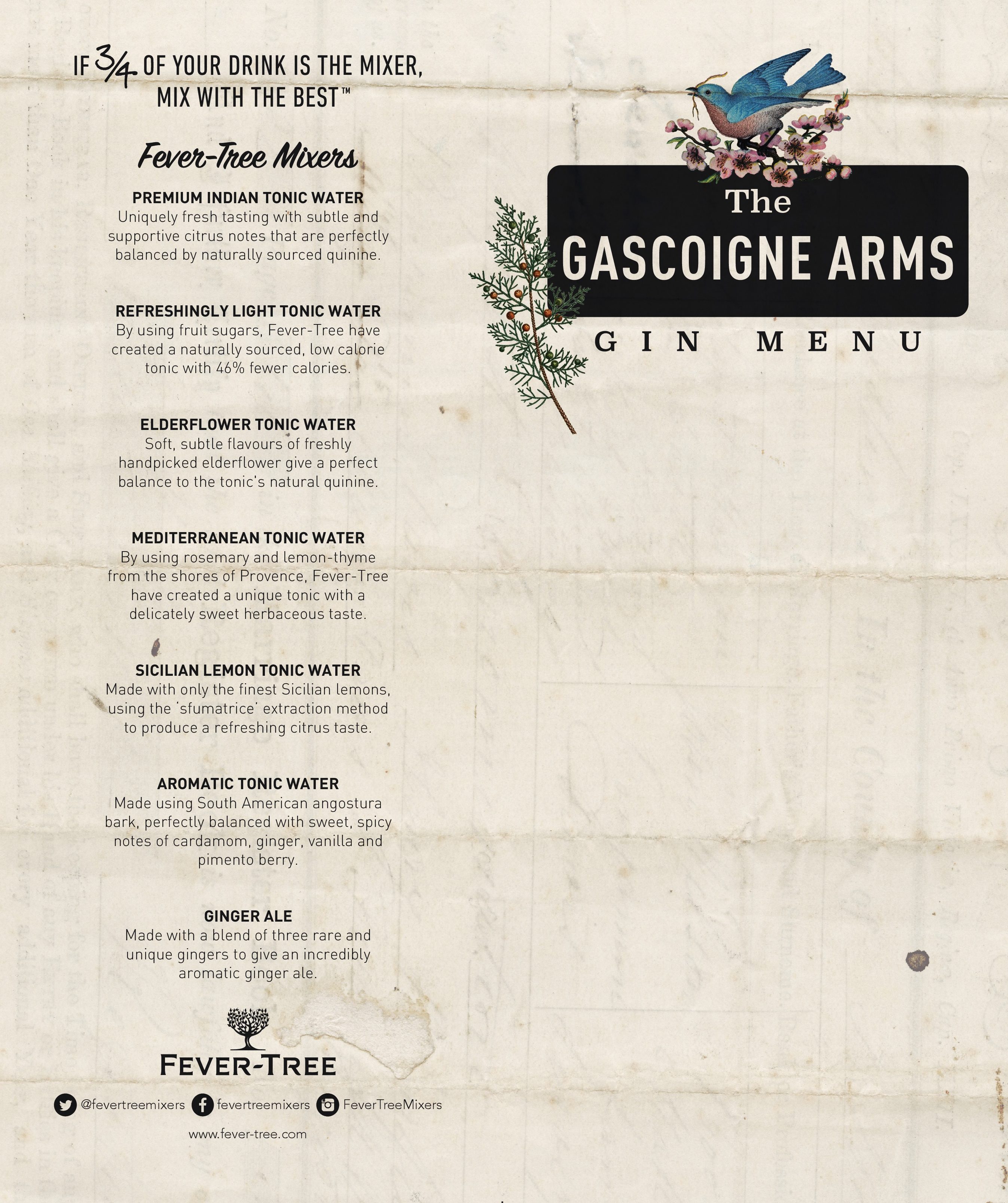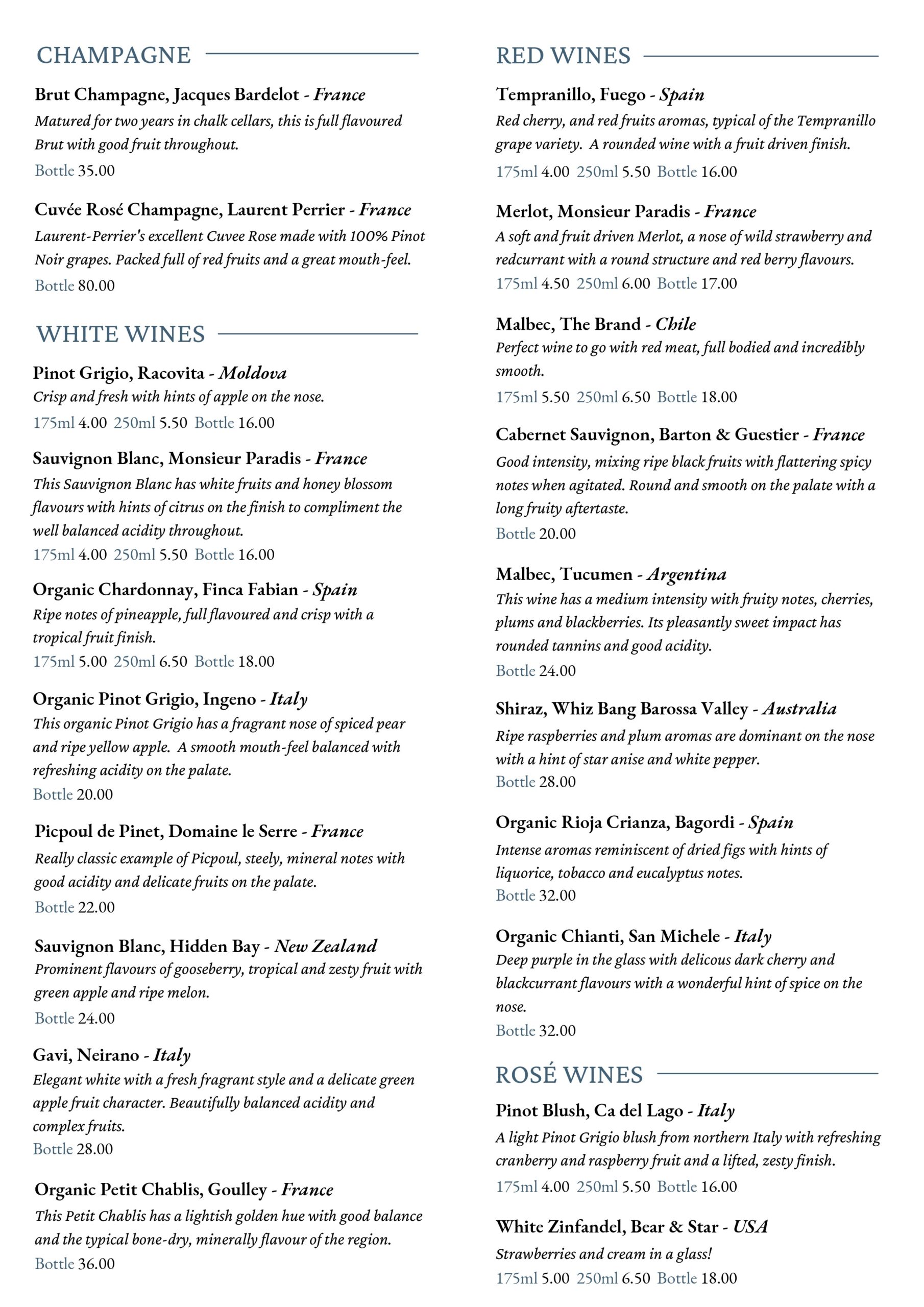 click here for a pdf printable version of our wine list